Social Responsibility
At Optum, social responsibility leverages the extraordinary abilities of our people, ideas and resources to help the communities where we live and work.
We live our mission of helping people live healthier lives and helping make the health system work better for everyone; and our values of integrity, compassion, relationships, innovation and performance every day, in everything we do.
Giving, volunteering and business innovations are the ways in which we live our mission and respond to the needs of our San Diego community. Each is important; together they become a powerful commitment to improving health, people's lives and communities.
Optum San Diego Public Sector Staff Volunteer at San Diego Youth Services
On December 22, 2015, a group of Optum Public Sector staff volunteered at the San Diego Youth Services' (SDYS) Transitional Living Communities, which provide supportive housing to youth. The programs are available to emancipated youth, former foster youth, and other youth at-risk of homelessness through Transitional Housing Program-Plus (THP+) & THP- Foster Care. SDYS provides supportive housing services to approximately 90 youth and 50 young children each year. Youth are offered safe, stable housing with reduced rent, and other supportive services, primarily provided through case managers and youth advocates.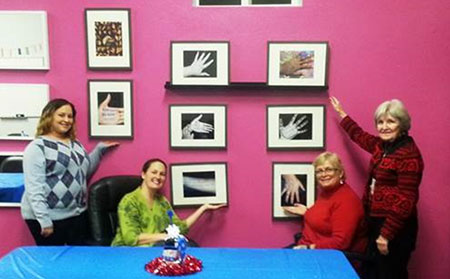 Optum Staff: Amanda Nye, Kristie Preston, Linda Espinoza and Denise Walker
Optum staff provided and served a holiday luncheon for the program's participants. The group assisted SDYS' staff by playing games, crafting, and entertaining guests of all ages. Skylar Hayes, Senior Reports Analyst, planned the volunteer event. He observed, "This event was a great reminder that a little goes a long way. One of Optum's values is compassion, we are very fortunate to have had an opportunity to positively impact SDYS' youth and contribute to the holiday luncheon. It's very touching to see how a program in our own community has a passion to wrap services around the youth that sorely need it. SDYS has a wall where they display hands of past participants with messages of hope. This is a visual reminder that as difficult as things may be, other people have also been in that situation and succeeded. This is also a reminder to all of us to be of service to others. We feel very grateful to spend time with this population and offer holiday cheer and optimism."
Cynde Perry, THP+/FC Program Manager, shared: "Thank you so much for making the THP holiday party a huge success! We have had so many compliments and stories today, many involving you and your team at Optum for the good food, as well as truly enjoying hanging out with the youth. We look forward to having other events together in the future."
Optum San Diego Public Sector Staff Volunteer at Veterans Affairs Hospital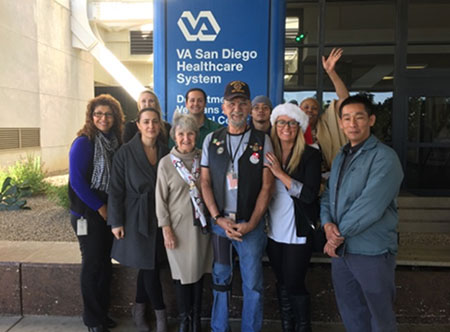 Optum Staff posing with Robert Cheseborough, VA San Diego Staff. Front Row: Vanessa Villanova, Denise Walker, Lalena Magnetta, Buu Truong, Second Row: Elva Briseno, Colleen Bingham, Tony Guerena, Dat Nguyen, Madelynn Lambkins.
Bonding with an American hero can be humbling. Optum Public Sector staff were grateful to participate in a volunteer opportunity at the Veterans Affairs (VA) Hospital in La Jolla on December 15, 2015. The event allowed employees to express their appreciation for our community partner by handing out "Thank You" cards.
Employees conveyed their gratitude to the brave individuals who served our nation, and some veterans even shared their amazing active duty stories of courage, dedication, and valor. Just by sitting down and speaking with men and women from many generations took Optum staff back to a time and place where the veterans wore the cloth of our nation. Reciprocating warmth throughout the halls of the VA Hospital was a wonderful experience. Skylar Hayes, Senior Reports Analyst, planned the volunteer event. He shared: "It was a pleasure working with these wonderful individuals. It's incredible to know that such a small act of kindness can make someone's day brighter."
Make Change: Giving Campaign 2015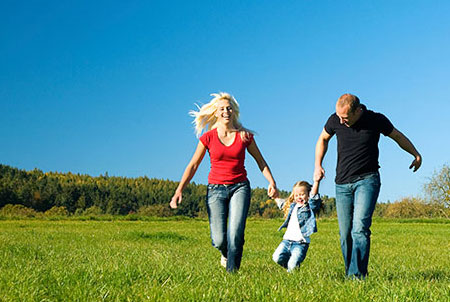 40,977 UnitedHealth Group (UHG) employee donors raised $11,700,000 in the annual charitable giving campaign. This program supported our focus on giving back through recurring payroll deductions, a one-time payroll deduction, external match, and credit card or PayPal. Funds were contributed to over 20,000 eligible 501(c)3 organizations, with many donations matched by UHG. There is so much to love in this world: children, animals, nature, and beyond. Donors stopped, thought about what they love and how fulfilling it is to support the causes that inspire them, and demonstrated their generosity. Even one dollar had enough impact to provide a two-month supply of syringes for a diabetic kidney patient, a Make-A-Wish recipient with a backpack of treats and games, or an older unemployed person with viable job opportunities. This flexible, interactive experience keeps our cultural value of compassion alive all year round.